Spider mites are common in south-central New Mexico to cotton crops. This link will provide more information on what spider mites are and how they damage the crop, and how to eradicate spider mites if cotton crops are infested.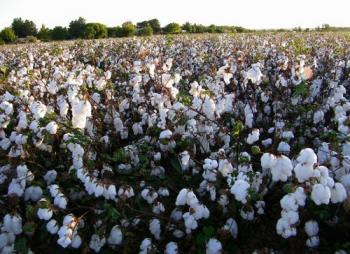 Cotton Newsletter
In order to promote cotton production in New Mexico, a Cotton Newsletter publication was initiated in April 2010. This newsletter is a follow-up to the Cotton Task Force Meeting that took place in August 2009, to address the declining production of Cotton in New Mexico. This publication is tri-annual, and is sponsored by the Cooperative Extension Service of the New Mexico State University (NMSU) and the New Mexico Cotton Growers Association. The Cotton Newsletter is targeted towards providing current production information for cotton growers, educators and other stakeholders in cotton industry.
Each edition of the Cotton Newsletter can be downloaded from this site.
2022 Cotton Newsletters - Volume 13
2019 Cotton Newsletters - Volume 10
2018 Cotton Newsletters - Volume 9
2017 Cotton Newsletters - Volume 8
2016 Cotton Newsletters - Volume 7
2015 Cotton Newsletters - Volume 6
2014 Cotton Newsletters - Volume 5
2013 Cotton Newsletters - Volume 4
2012 Cotton Newsletters - Volume 3
2011 Cotton Newsletters - Volume 2
2010 Cotton Newsletters - Volume 1